If you need help setting up CNCLINK and your computer is on the internet you can request support to setup your software or overcome a communications issue.
You need to give us control over your PC by using our small remote client software.  If you have phoned to request support you may be directed to this page.
Download the remote software here and run the program. You will need to allow access and override any block by your anti-virus software.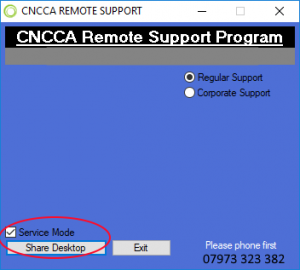 When you get this blue window select 'Service Mode' before clicking [Share Desktop].
Remote support is charged at £40+VAT per incident for up to 1 hour support.  Then in 1/4 hour increments. (This is subject to an engineer being available at our end)